Although browsing deer are charming to watch, they can cause extensive damage by feeding on plants and rubbing antlers against trees. Where urban/suburban areas meet rural areas, home landscapes may become the major source of food. Some deer facts:
It is difficult to move deer out of areas where they are not wanted.
A hungry deer will east almost anything – so no plant is 'deer proof'.
The two deer repellents are contact repellents and area repellents.
Netting can reduce deer damage to small trees.
Adequate fencing is the only sure way to control deer damage.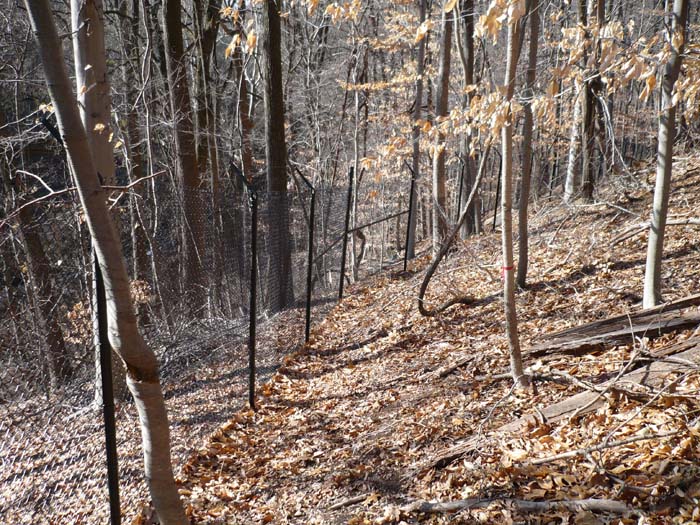 Fenceworks has been keeping deer out for 25 years. We've produced solutions for gardens, farms, and estates by offering different types of fence. Depending on the existing circumstance, the fence experts at Fenceworks would be happy to discuss your particular need with you. Typical types of fencing we install for deer exclusion include 8 foot high chain link fabric on metal posts topped with 4-strand wire at a 45 degree angle to further discourage the deer and a diamond mesh wire on 8 foot round posts.
Typically, deer wont jump obstacles by nature as they have trouble seeing the top of fencing. If they aren't highly motivated, deer wont typically pursue entrance beyond a fence. Maintenance can be difficult in the early days so it is important to have experts install a proper fence. Deer can be crafty and will try and get underneath fencing. Secure and informed installation will ensure proper protection of your property while allowing the deer population to continue living undisturbed. Contact us today to come up with the perfect plan for your property.
Deer Fencing Photo Gallery
Stop by our showroom Monday to Friday, 7:30am – 4:30pm
Holiday Hours 2017:
December 25 – Closed
December 26 to 19 – 9:00am – 2:00pm
January 1 – Closed
Showroom:
1200 W. Street Road
West Chester, PA 19382

Showroom:
1200 W. Street Road
West Chester, PA 19382