For years, wood fencing has traditionally been the preferred residential fencing system. However, with the recent innovations in the vinyl industry, the long term cost of vinyl fencing has become almost as economical as wood fencing, but you'll save money in the long term, because this product will last a lifetime. The vinyl never needs sanding, painting or staining and surface dirt is easily washed away with a garden hose.
Vinyl fence is made with PVC (polyvinyl chloride). The PVC resin is combined with various ingredients that give vinyl fence durability, impact strength, and the ability to withstand weather extremes.
When compared to other fence material vinyl is very easy to care for. Unlike wood, a vinyl fence will never warp, peel, splinter, rot, chip or rust. Vinyl is also an environmentally-friendly material that is fully recyclable and saves trees.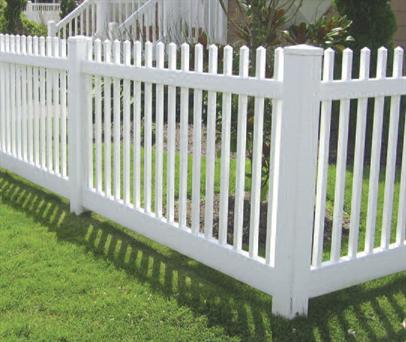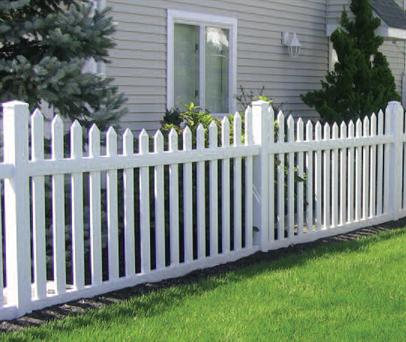 Fenceworks products are of the highest contractor grade, available in white, khaki or almond. Sections and posts are routed and notched and require no screws, brackets or wood inserts for assembly. Aluminum reinforcements in the bottom channel of each fence panel add overall strength. Sections are manufactured and packaged assembled or unassembled for easy installation. Fenceworks fencing products will withstand the test of time.
Fenceworks' selection of vinyl fencing has a style for everyone. From small picket fences to large privacy sections, Fenceworks can accommodate any of your vinyl fence needs. Vinyl is a great choice for those who want to combine scenic beauty with long life and durability. As with all types of fence we offer, Fenceworks only works with the industry's highest quality manufacturers such as HomeTown Vinyl. These companies use only the finest materials and extrusion processes to ensure the customer will get a vinyl fence that will not deteriorate or discolor due to moisture, temperature extremes, ultraviolet exposure and/or time itself. Our high quality manufacturers, along with a quality Fenceworks installation, will ensure a beautiful fence that will stand the test of time.
Vinyl Fencing Photo Gallery
Stop by our showroom Monday to Friday, 7:30am – 4:30pm
Holiday Hours 2017:
December 25 – Closed
December 26 to 19 – 9:00am – 2:00pm
January 1 – Closed
Showroom:
1200 W. Street Road
West Chester, PA 19382

Showroom:
1200 W. Street Road
West Chester, PA 19382